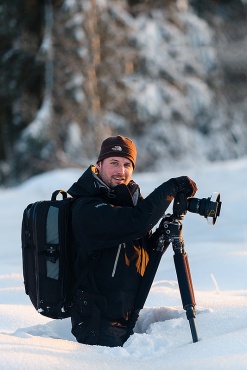 Date of birth: 21st of October 1980
How did you become passionate about nature photography?
Nature photography was already in my blood before I could walk. As a child you could find me more outside than inside, my love and interest in nature grew that way. For years I was a passionate ornithologist and soon I made the step of binoculars to a camera. Standing in the brightest light in the right place at the ideal time: that is why I do it. Then I often get overwhelmed by the power and beauty of nature. Because I wanted to capture those moments forever, becoming a nature photographer was the best solution.
What subject do you prefer to photograph and why?
Of course I prefer to photograph landscapes. In the summer I particularly take macro photographs of insects and butterflies.
What is your favorite nature preserve?
In Belgium: the Langemeersen in Oudenaarde
Abroad: the landscapes in the North: Scotland, Iceland and Norway
What is your favorite shooting position?
Because I mainly work with a telelens my shooting position is low to the ground.
Which nature photographer do you admire?
Joe Cornish / Charlie Waite / Ian Cameron / Vincent Munier / Ansel Adams / Bence Mate
What quality must a nature photographer absolutely have?
Perseverance and patience
Which light situation do you prefer?
Backlight at morning mist or dramatic light (heavy or well cloudy with light spots)
Which setting do you prefer: Manual-Aperture Priority-Shutter Priority?
Usually I prefer aperture priority, which is useful when using filters. When shooting in bulb (extremely long shutter speeds) I choose to highlight manually.
Do you have any advice for future nature photographers?
You've got to reach out, assertiveness is recommended. Do what you have to do to reach your goal. If you want something very badly you have to do everything in your power to make it work, this ensures the most satisfaction.
You can find out more about Bart Heirweg on his website: http://www.bartheirweg.com