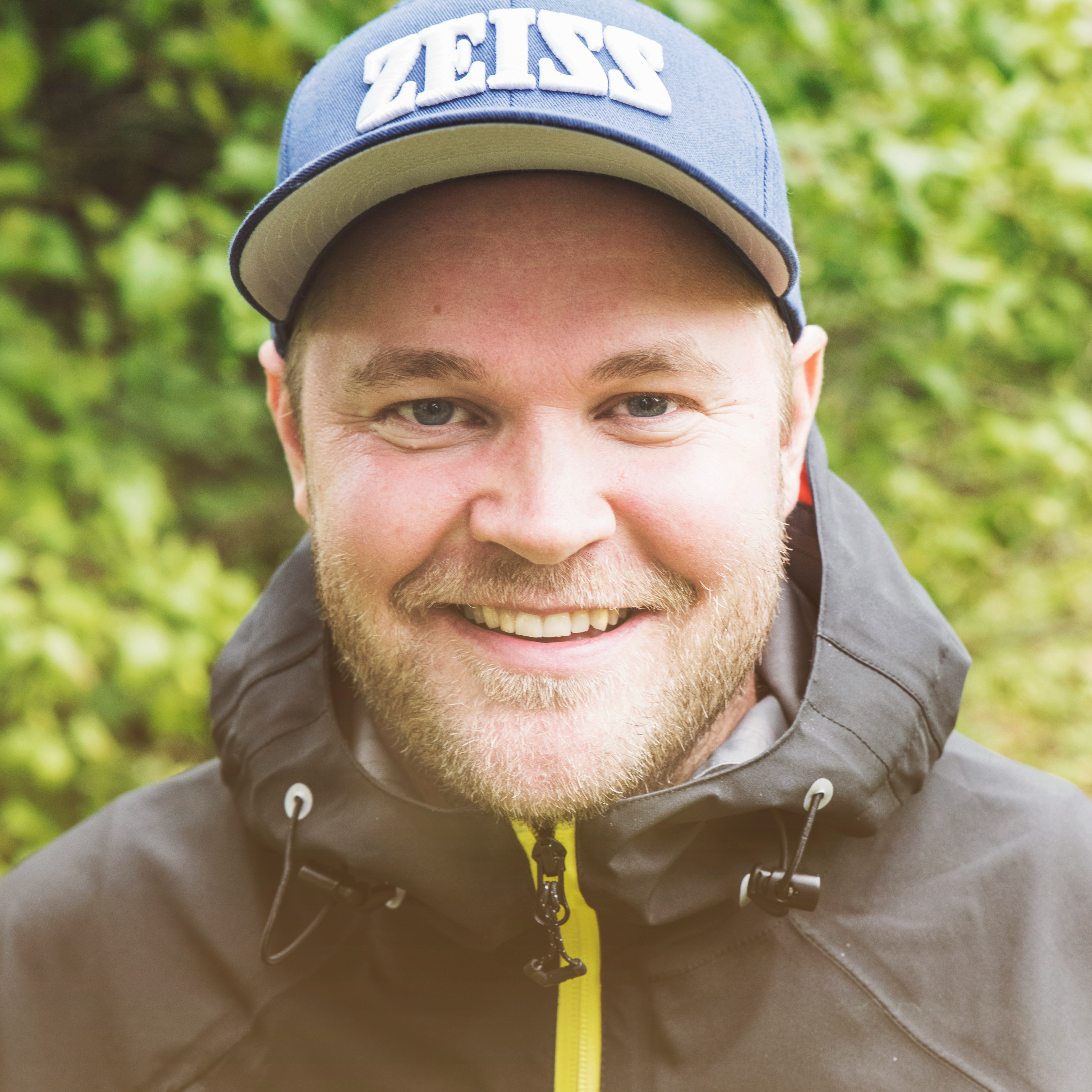 Date of birth: 1982
How did you become passionate about nature photography?
It all started when I was fishing a lot in the sea, Gotland where I lived for three years. When I caught a big fish, mostly sea trout I wanted to take a picture of my catch. So, I bought a pocket camera and started taking images.
I soon realised that I could photograph other types of pictures as well, mostly sea landscape. That is where it all started.
What do you take with you on a photo shoot?
It really depends on the situation and what I am going to photograph. However, I want to travel light. That's why I became a Swedish Olympus ambassador. I use the Olympus OMD-E 1 Mark II with pro lenses, so I can hike mountains and walk long distances without too much weight.
I am usually flexible in my nature photography. Lenses are both wide angle and telephoto. With me I always carry teleconverters and sometimes also a drone. In my backpack there are also binoculars and a GPS.
What subject do you prefer to photograph and why?
I want to capture feelings, not subjects. For me it is more important that the image is ecstatic, with good lighting more than to show a specific subject. Sometimes the subject does not matter with the right settings. However, if I must choose, I like mountain areas and all kinds of mammals. Both here in Sweden and Norway but also abroad.
What is your favorite nature preserve?
There are many! The ones closest to my heart must be Dovrefjell and Rondane national park in Norway. Closer to home I would say Tinnerö Eklandskap in Östergötland Sweden.
What is your favorite shooting position?
Low! Always low angles when it comes to bird and mammal photographs. That, light and foreground are the most important ingredients for a good animal- or bird image. For landscapes I often use a tripod in different heights.
Which nature photographer do you admire?
I have a friend and colleague named Jan Pedersen, he is also my hero when it comes to nature photography. Not just because of his pictures but his love and engagement for the art of photography and nature.
What quality must a nature photographer absolutely have?
Patience, and a lot of it. Both in landscape and mammal photography. You also must sacrifice some time or money to be a good nature photographer. I work 100% as a professional nature photographer, however it also means I don't have much time left except for my family and the economy is a big factor here also. But if you want to be a nature photographer "just for the fun of it" (and that is the most important), I still have to say patience.
Which light situation do you prefer?
The early blue morning light. Gold mornings with mist and late evening sun. I can work in every light situation, but these are my absolute favourites.
Which setting do you prefer: Manual-Aperture Priority-Shutter Priority?
It depends on the situation, but I mostly use Aperture Priority. In landscapes and on tripod, mostly manual.
In percentage terms how much time do you take to create an image and to process the image?
I work a lot with my images in the field. And perhaps mostly my landscape images. I can stay for hours and hours just to capture the best setting. However sometimes I get the image straight away, then I can go home to my family earlier.
Post-processing is extremely important today. I must say that it is 50% of the photograph process. Many nature photographers here in Sweden are very bad at post-processing, despite that it can make a huge difference. However, I try to keep my time in front of the computer minimal so I can spend more time outside making new photographs.
Which processing program do you use?
Lightroom Classic and Adobe Photoshop CC.
Do you have any advice for future nature photographers?
Yes! Start to believe in yourself! Try out new things and ideas. Listen and look at images from other photographers but do not copy them, make your own style of nature photography. Do not listen or meet up with photographers that steal your energy and creativity.
Dare to be different and do not follow photography trends. Have a lot of patience (again) and do not rush things, it takes a lot of time and effort to become a good nature photographer. Do not become a gear freak, use that money and time on courses or nature photography travels. And when you are on a destination, sometimes, do not think about photography – think about the nature you have in front of you!
However, buy the best camera you can afford but do not buy stuff you really do not need. Work with your sole and yourself, learn who you are and where you want your life to be in five years. Work hard to reach your dreams! And have fun doing it!
You can find out more about Niklas Virsen on his website: www.niklasvirsen.com
Fröstad Naturfoto : www.frostadnaturfoto.se
Youtube: https://www.youtube.com/c/niklasvirsen
Instagram: https://www.instagram.com/niklasvirsen/
Facebook: https://www.facebook.com/lkpgbild