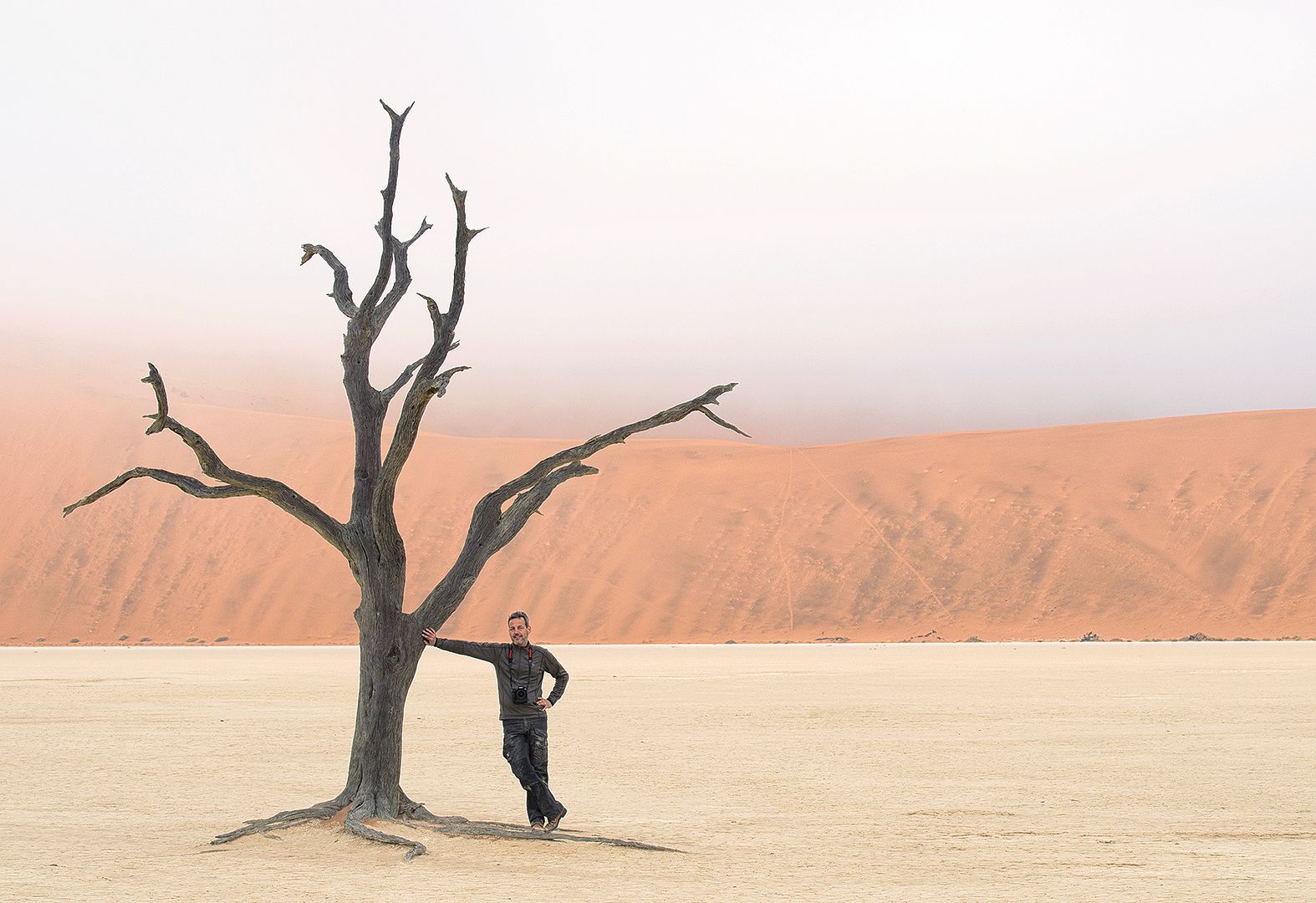 Date of birth: January 5th, 1969
How did you become passionate about nature photography?
At first my photography was about documenting my travels. Architecture, public life, landmarks and social interaction were my chosen subjects. When I started working in the hospitality industry, my time was limited to an odd hour here and there. To relax and wind down I would go for short walks with just a macro lens. That miniature world of life in the undergrowth was fantastic and for a few years I was only photographing that miniature world.
When later on my travels shifted from Asia to Africa, my interest in the bigger animals and landscapes got a boost and since that time I'm hooked to travelling and documenting the unspoiled parts of Africa.
What do you take with you on a photo shoot?
The contents of the bag(s) vary from trip to trip and as a Pentax brand ambassador I can lend specialized equipment like the medium format 645Z from the demo pool; should I focus on landscapes. That camera excels in that area.
But normally I take a full-frame based kit with me consisting of 2 Pentax K-1 bodies, the 15-30/2.8, 24-70/2.8, 70-200/2.8 and a 150-450/5.6. In combination with a 1.4x converter I've got all my bases covered for most situations. This kit fits perfectly in my Gura Gear Kiboko and (knock on wood) is "allowed" as cabin luggage.
Of course I never travel without proper tripod support for those low-light situations, so my Sirui R-4213X and a selection of Sirui filters also is always part of the kit. This is my standard equipment both in Holland as abroad. When I'm travelling to Africa I take macbook pro, external drives, extra APS-C body, a trail camera, sensor cleaning kit and more assorted bits and pieces with me. Travelling light is clearly not part of my mission…
What subject do you prefer to photograph and why?
I've got a soft spot for mammals. Their social interaction and diversity in colour, shapes and habitat always give me something new to look for. They are often unpredictable and you need skill and insight in their behaviour to be able to get the most out of your images. If you make a mistake chances are you have missed your chance.
What is your favorite nature preserve?
Any reserve where I come for the first time is an eye-opener for me. My senses are more open because all the new shapes, lights and possibilities trigger my creativity. But if you would ask me where I would like to be next week… Moremi game reserve and its surroundings in Botswana. Its remoteness and diversity of wildlife is amazing and I just love to camp there on the banks of the rivers and streams.
What is your favorite shooting position?
I like to get on eye level, so most of the times you will encounter me on my knees, bottom or belly.
Which nature photographer do you admire?
I love the creativity that Nick Brandt has shown over the years and especially his last book "Inherit the Dust" has shown that he can reinvent himself. Apart from that he has a great foundation, "Big Life" that is aiming to reduce poaching in Africa.
Peter Beard is another photographer/artist that has produced an iconic document of Africa "The end of the game".
What quality must a nature photographer absolutely have?
I think photography should start with the ability to enjoy what you are doing. If you are only driven by results, you miss out on much of the fun of being outdoors. I find it hard to decide for others what quality they should strive for, but I'm personally blessed with vivid imagination which helps me tremendously with pre-visualization.
Which light situation do you prefer?
I'm a slow starter during the day, so I'm normally at my best when the day drags on; Sunsets for me!
Which setting do you prefer: Manual-Aperture Priority-Shutter Priority?
Aperture priority for normal conditions with changing lighting and subjects. But I use the others quite often as well, depending on the situation.
In percentage terms how much time do you take to create an image and to process the image?
95% vs 5%; It may take me 3 weeks to bring home the odd 20.000 raw files and normally I only process about 3 to 5 images for each day. Most images I don't even review when I'm back home as I decide on my favourites in the field.
When I'm on a day trip in Holland I also process just 1 or 2 images from that day.
On average processing an image takes no more than a few minutes.
Which processing program do you use?
Adobe Photoshop CC
Do you have any advice for future nature photographers?
With the amount of great images we see each day on social media it's important to create your own identity. Don't try to copy other photographers if you like their work, but try to incorporate their strengths into your own vision. In the end that's what will make you stand out from the crowd.
You can find out more about Mike Muizebelt on his website: www.mikemuizebelt.nl