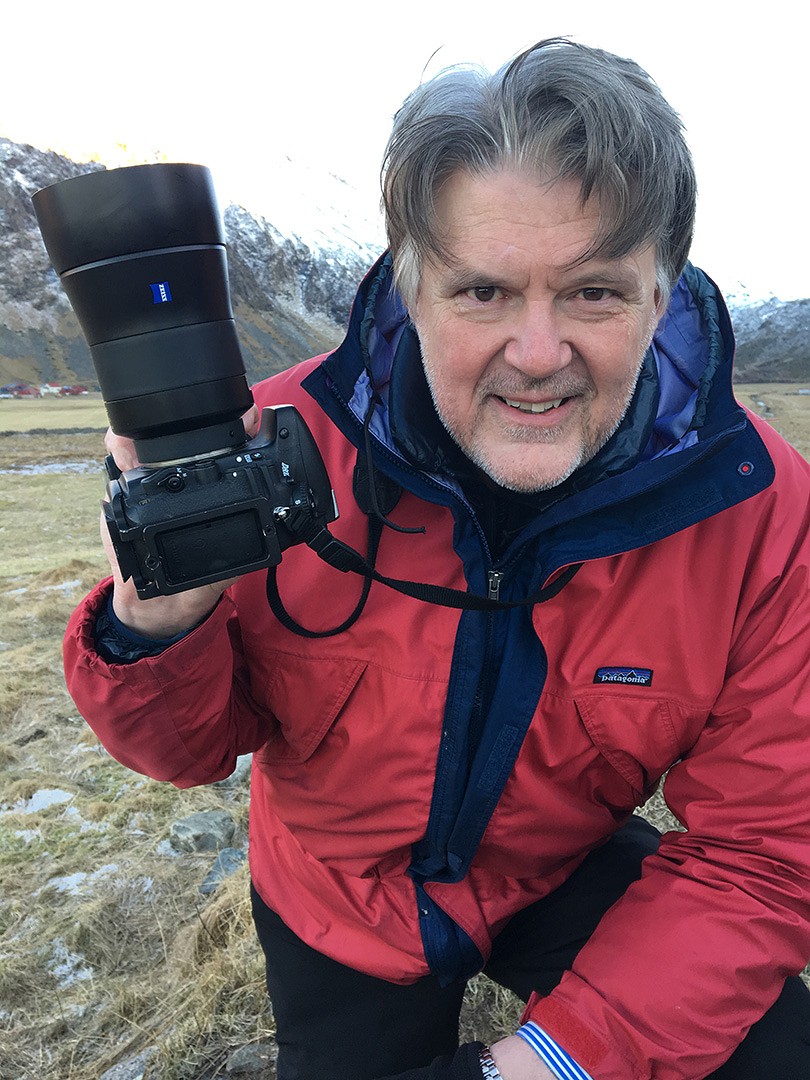 Date of birth: I was born on the 29th of November 1955.
How did you become passionate about nature photography?
I bought my first camera during a school trip to California in February 1981. I was 25 years old then and took my first rolls of film in Yosemite National Park. It was 21 rolls of Kodachrome 25 and everybody thought I was crazy shooting so many films. This craziness got worse and worse though. After school I worked as an engineer for 9 years until I took the decisive step to become a full time landscape photographer in June 1990.
What do you take with you on a photo shoot?
Most of the time I bring along two different camera systems: one Hasselblad medium format and one Nikon DSLR. Prime lenses from super-wide to moderate telephoto. I don´t have any really long lenses since I am not shooting wildlife.
What subject do you prefer to photograph and why?
I consider myself a pure landscape photographer. I got the landscape photography bug when I took my first rolls in Yosemite and this is how it still is. The only wildlife I have in my shots is when something flies into the frame by accident. I find there is more room for intellectual composition and content in landscape photography. Whereas in wildlife photography it is more about action and framing rare species.
What is your favorite nature preserve?
Iceland has become my favorite location. I have been there 29 times and I always find something new to photograph.
What is your favorite shooting position?
My favorite shooting position is from the air. I have spent more than 120 hours shooting from airplanes and helicopters.
Which nature photographer do you admire?
I admire many nature photographers: Jan Töve, Theo Bosboom, Alex Noriega, Guy Tal, David Thomson, Charles Cramer, Fredrik Boo, Tore Hagman, Jan-Peter Lahall to mention a few. This list could be made much longer.
What quality must a nature photographer absolutely have?
I think there must be a desire to interpret what you see and feel. Not just to register and bring back as 'I was there and took a picture of it'. It is in the interpretation where art is created.
Which light situation do you prefer?
I prefer a day with light overcast. This gives me a soft light where tones and colors will come out nicely. It also gives me enough time to find the ideal camera position and composition. I find this classical early morning and late evening light a bit too predictable and too romantic. Who decided that our images should be charming and seductive?
Which setting do you prefer: Manual-Aperture Priority-Shutter Priority?
I set my cameras in Aperture Priority most of the time, since the aperture dictates the depth of field. However when I shoot from the air I use Shutter Priority, since then it is important to have a fast shutter speed to avoid motion blur.
In percentage terms how much time do you take to create an image and to process the image?
It is very difficult to say how long it takes to make a good image. If I see something interesting I know that I am very quick to find a good position and to compose. The shooting then just takes less than a minute. Then in some situations I can wait for the right light for hours. The post processing takes normally less than 5 minutes. I am not a fan of over processing. Less is more as I see it.
Which processing program do you use?
I only use two programs: Photoshop CC for processing and Helicon Focus for focus stacking.
Do you have any advice for future nature photographers?
Just develop a personal style and develop it further. With time your style will be unique and you will stick out from the main stream.
You can find out more about Hans Strand on his website: www.hansstrand.com