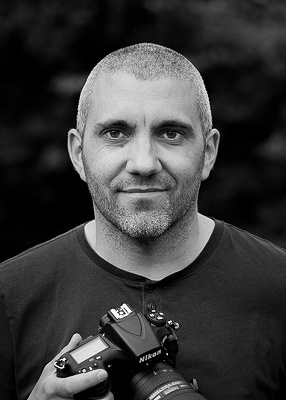 How did you become passionate about nature photography?
I was always a lot more creative than academic growing up, preferring art and design above all other subjects at school. Despite being born in London, I also found myself fascinated by natural history documentaries and preferring to be out in the countryside over the city. When I was 17 I was given an old Nikon film SLR to play with and I loved the way I could adjust the aperture and shutter speed to affect the look and feel of the picture. With my interest in nature, pointing the camera at wildlife was the obvious choice.
What do you take with you on a photo shoot?
I try to keep it simple whenever possible. If I'm close to home, I travel light with just a D810 and my 400mm. However if I'm going away, I'll take several bodies and lenses, usually two D810's, a D500, 400mm, 70-200 and a wide angle zoom. I think probably the typical standard kit that most photographers will pack.
What subject do you prefer to photograph and why?
I'm a very visual person and have always approached my photography with the attitude that I am more interested in the light conditions and artistic merit of an image than I am in the subject. The closest I could narrow it down to is that given the choice I've always preferred mammals over birds.
What is your favorite nature preserve?
One of my favorite locations is Skomer Island, run in the UK by the National Trust. It is famous for its puffin colonies but I just love the location regardless. It's only 15 minutes from the mainland but if you stay in the hostel style accommodation, a converted old farmhouse, you can enjoy the island almost entirely to yourself once the day trippers have gone home.  Having the island to yourself from 5pm to 10am the next day is magical.
What is your favorite shooting position?
Whichever suits the image I'm currently trying to take.  Sometimes it means being nice and comfortable, such as sat at my kitchen window waiting to remotely trigger the camera in the garden, whereas other times it might mean laying on rocks at awkward angles. In fact it was in doing that at Lake Kerkini in Greece, that I tore the cartilage in my knee.
Which nature photographer do you admire?
There are many talented photographers out there whose work is inspirational for different reasons. To pick one or two would be unfair on the rest and I'd probably forget to name someone I wanted to. What I can say is that there is some incredible inspiration to be found from other photographers who have taken part in this interview process…
What quality must a nature photographer absolutely have?
A respect for wildlife is first and foremost. Followed by patience and the ability to enjoy spending time alone, as often you are in your own company for long periods of time. It is also essential to have a built in desire to create imagery because there can be long periods of not producing the images you can see in your head, and pushing through that requires a huge level of motivation.
Which light situation do you prefer?
I have a strong pull towards very contrasty and dynamic lighting that creates atmosphere and mood. I love the play of light versus shade so although when out in nature I'm at the mercy of the lighting conditions, I find myself in my element when I am able to play on strong contrasts, often favoring images that take on an overall dark tone.
Which setting do you prefer: Manual-Aperture Priority-Shutter Priority?
90% of my photos are taken in Manual with Auto ISO. It's such a versatile exposure mode that works well with exposure compensation, so it's always my default setting.
In percentage terms how much time do you take to create an image and to process the image?
It can vary greatly depending on the image. A straight forward photo in good light can take 30 seconds to capture and the same to process but a camera trap image taken at night, with a combination of ambient and artificial light, can take weeks or months to capture and sometimes half an hour or more to process depending on the subtle attention to detail within the frame where the light sources need to be balanced. Both types of image are rewarding for different reasons. I like the simplicity and speed of off the cuff moments captured that are not planned but I also like the satisfaction of planning an image and it being months before I see a payoff.
Which processing program do you use?
Lightroom for everything. I used Photoshop a long time ago but since Lightroom 5 I've always used that, and now CC.
Do you have any advice for future nature photographers?
You need to be passionate, either about nature or photography or ideally both. There are often many unrewarding experiences in nature photography so you need that passion and enthusiasm to push you on and keep you motivated. It's also a crowded market, especially in the UK, so it's important to worry less about what others are doing and concentrate your time and energy on your own work. That's some of the best advice I've ever been given and I stand by it!
You can find out more about Richard Peters on his website: http://www.richardpeters.co.uk/
Twitter: https://twitter.com/RichardpPhoto
Facebook: https://www.facebook.com/richardpetersphotography
Instagram: https://www.instagram.com/richardpetersphoto/