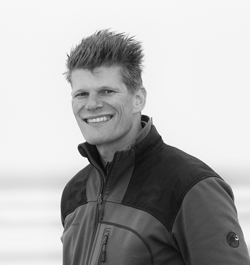 Date of birth: 2nd of August 1969
How did you become passionate about nature photography?
In 2003 I took two months off from my work for a trip to Africa: one month in Namibia and one month in Tanzania. Great countries with an abundance of wild nature. It was the first trip that I spent a lot of time on photography and it really opened my eyes. I started seeing things that I had never seen before and became very enthusiastic about nature photography. Back home I joined a nature photography club in Nijmegen and I started learning and improving fast. Since then, photography is a big part of my life. In 2013 I eventually took the plunge into the deep and became a fulltime photographer.
What subject do you prefer to photograph and why?
Nature is always my subject and my source of inspiration, but still there is quite some variation in my themes. I like landscapes a lot, especially intimate landscapes, but photographing birds or insects makes my very happy as well as doing more abstract work.
What is your favorite nature preserve?
In the Netherlands there are a couple of them: Millingerwaard, Deelerwoud and Schiermonnikoog probably occupy the top 3 at the moment. Outside of the Netherlands it must be Vatnajökull national park on Iceland, which is very large and offers endless possibilities.
What is your favorite shooting position?
That depends on the situation.
Which nature photographer do you admire?
I get inspired by pictures of a lot of photographers nowadays, both nature photographers and other photographers, in the Netherlands and in the rest of the world. There are not many photographers that, in my opinion, are able to deliver a constant quality over the years and that keep on surprising and amaze me with their pictures. Hans Strand, Paul Nicklen and Vincent Munier are among the few that do succeed in that.
What quality must a nature photographer absolutely have?
Creativity is very important to me. Too many people are taking the same kind of pictures of the same subjects these days and it takes creativity to find new subjects or new ways to photograph them.
Which light situation do you prefer?
Obviously it is nice to have fog or the beautiful golden light in the early morning or late evening, but I can be happy with any kind of weather. Sometimes an overcast grey day is exactly what you need for a certain picture.
Which setting do you prefer: Manual-Aperture Priority-Shutter Priority?
Aperture priority in 98% of my pictures.
Do you have any advice for future nature/wildlife photographers?
Stay with one subject you love for some time and you will see you will start taking better and different pictures of it after a while.
You can find out more about Theo Bosboom on his website: http://www.theobosboom.nl/