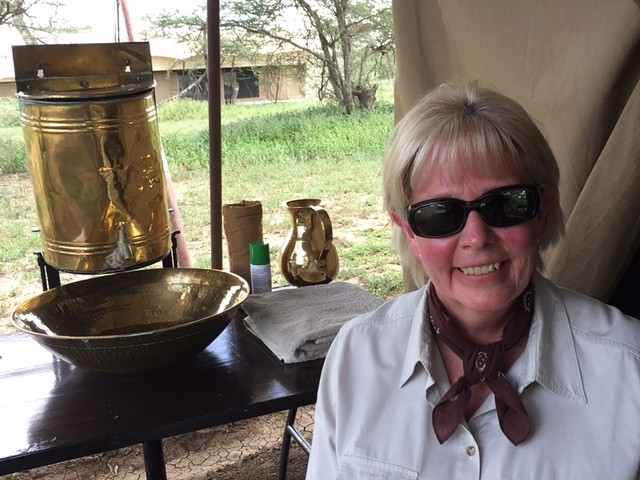 Date of birth: 24th of March 1961
How did you become passionate about nature photography?
For me, nature and wildlife photography started simply as a way to record my adventures and trips so I could remember and revisit them for years to come. What started as an afterthought gradually evolved into a consuming passion.
Seeing a subject in a new light and trying to capture an expression that describes the animal's personality, a moment of tenderness, a sense of family life or a unique behaviour, is always a challenge for me. I'm always trying to reveal an animal's soul by creating interesting and engaging images.
What do you take with you on a photo shoot?
I like to work with 2 DSLR cameras: Canon 1D Mark IV and Canon 1DX Mark I.  I am very happy with my Canon EF 300mm f/2.8L IS I USM lens. Sometimes I use a 1.4x or 2.0x converter on this prime lens.
A second lens I like to work with is a zoom lens 70-200 mm f/2.8. This is a very comfortable and handy lens for photographing wildlife, as you never know how close the animal will get. I also carry a standard lens 24-70mm, a wide angle lens and a macro lens in my backpack.
I like to travel in Africa and electricity is not always for granted, as a consequence I always have sufficient memory cards with me as you never know whether you'll have the possibility to back-up your pictures in the evening.  I use a steady Gitzo tripod and for photography out of a jeep I use a Wimberley and a Manfrotto clamp attached to the bar in front of my seat.
What subject do you prefer to photograph and why?
I love African mammals a lot. For example, it is easy to photograph a sleeping lion, but the challenge is to make a "different" lion picture. I once was in Tanzania and it was raining the whole day. We located a pride of lions. One of the males was soaking wet and you know from experience that he is going to shake his manes after a while and that is the special moment you are looking for.
What is your favorite nature preserve?
I love Botswana and Tanzania a lot. Both countries offer such a great variety of wildlife. Tanzania has a lot of open plains where you can photograph hunting Cheetah.
The migration in Tanzania is also famous. Over a million wildebeests and about 200.000 zebras flow south from the northern hills to the southern plains for the short rains every October and November, and then swirl west and north after the long rains in April, May and June. So strong is the ancient instinct to move that no drought, gorge or crocodile infested river can hold them back.
In Botswana, the Okavango Delta supports large concentrations of animals and is perhaps one of the best places to see birds in Africa.

What is your favorite shooting position?
In Africa the safest way to photograph animals is from a jeep of course. I like an open jeep as this is a comfortable way to travel around.
Normally when you photograph animals, a shooting position low to the ground is the best, but this is not possible in Africa as it is too dangerous and it is not allowed to get out of the jeep.
Which nature photographer do you admire?
Two amazing photographers and good friends that I have always looked up to are Danny Green (UK) and Jim Brandenburg (USA). I had the privilege to follow master classes with both of them and I'll never forget their skills, passion and perseverance.
What quality must a nature photographer absolutely have?
Patience, patience, patience,… 😉
Passion is also very important, even if you have to stay out in the bush for the whole day, you have to be passionate. It happens that you go back to your tent after following an animal the whole day without one good shot, but do not forget that you had the privilege to stay with the animal and were part of his life and routine.
Which light situation do you prefer?
I love the morning light in Africa. I can't compare it with morning light I experienced in other countries I have visited. The surroundings are also amazing as all animals wake up, everything is fresh and a new day starts.
Which setting do you prefer: Manual-Aperture Priority-Shutter Priority?
I prefer to use aperture priority as depth of field is one of the most important tools for my wildlife photography.
In percentage terms how much time do you take to create an image and to process the image?
The time I spend to photograph a certain animal depends on the subject, the location and the weather circumstances. I once worked three weeks on a certain shot that I had in my mind. I love leopards and I was dreaming of a shot where a leopard was behind a tree, bush or rock looking at me, having eye contact with only one eye, the other eye hidden. That was a shot hard to get as first of all a leopard is an elusive animal and you have to find it first and if possible, stay the whole day with him and follow his actions. Secondly they normally don't hide behind a tree 😉  But one day, all worked out well and I managed. Some years after that leopard shot, I also managed to have a lion doing peek-a-Boo behind a tree.
Unfortunately, image processing is a necessary and time consuming thing, but I'm rather outside.
Which processing program do you use?
I use Lightroom for archiving, key wording, selecting images and some basic adjustments and editing, Photoshop for the processing and the final touch.

Do you have any advice for future nature photographers?
The most important thing is patience. What I also advise is to observe and study your subject. Especially if it's an animal. It is so important to learn their behavior. This will certainly help you to predict certain actions so you're always ready to press the shutter.
What I also would like to point out is to leave an animal in his comfort zone. Do not push too much to have the ultimate shot. I rather leave my camera aside and enjoy a scene than making the animal uncomfortable. We are a guest in their natural surroundings.
Karin added an additional note on the subject of conservation photography:
I would like to tell something about conservation photography too. I am sure that you agree that the wilderness of our natural world is under increasing pressure and that is why that I, together with two other wildlife photographers, realised my second book called "The Magic of Hope".
Dr. Jane Goodall has written the foreword and supports the project. She reminded us that every little bit counts.
Nowadays, we are spinning a web of destruction on this planet, but we need to believe that there is hope. Through "The Magic of Hope", we connect the purity and innocence of the next generations to the confidence and wisdom of generations present and past.
The internet and social media platforms have opened up massive opportunities for young people to experience nature and it takes just a little encouragement to get them involved and reconnected.
Our project begins from children's drawings in Africa and Europe depicting their view of wildlife, to messages of hope from conservationists and iconic individuals throughout the world together with our photographs. Proceeds from this book will go to the Jane Goodall Roots and Shoots Foundation.
Embrace the beauty of our planet, our Earth and believe in Hope.
You can find out more about Karin Van Couwenberg on her website: http://www.wildlife-photography.be/